It's all about your dog!
DogWatch Northwest was established in 1993. Ron Pace, owner of DogWatch Northwest, has been in the dog training industry since 1977 doing business as Canyon Crest K-9 Training Center – www.canyoncrestk9.com. He is the Author of "Who's The Boss" a step by step dog training book. Ron has also served on the Board of Directors for the Tacoma Pierce County Humane Society from 2010-2015. He is much sought after for his dog training expertise and his dog training methods have been nationally recognized. You may have seen Ron's dramatic rescue of "Sugar" the Boxer that generated over 30 million hits on Youtube. Ron Pace has dedicated himself to training diabetic alert dogs to alert their owners to dangerous blood sugar levels. With DogWatch Northwest you get the complete package; Consumer Reports Best Buy pet containment fence and a certified master dog trainer that has 40 plus years of experience in communicating with dogs in a way they understand. The Pace family owns and operates the DogWatch Northwest business.

Patti Pace

Patti has been a dog lover and owner all of her life. Being in the dog industry since 1977 doing business as Canyon Crest K-9 Training center has taught her how to run a business smoothly. Breeding German Shepherds for 30 years and nourishing all those little puppies have brought her lots of enjoyment. Customer service is key to her. Patti is quick to point out that she and Ron work very hard and their awesome team are vital to the business. We look forward to welcoming you and your furry friends to our DogWatch Northwest family.
Awards-
2014- DogWatch Sales Achievement, 20 Years DogWatch® Service Award
2012- Humane Society Certificate of Appreciation, Evening Magazine Winner of "Best Dog Trainer"
2011- 21st Annual DOG-A-THON Gold Level Award, South Sound Magazine Winner of "Best Dog Trainer"
2010- 20th Annual DOG-A-THON Platinum Level Award, Torch Award Better Business Small Business of the Year
2009- Local Hero of the Year Award Juvenile Diabetes Research Foundation (J.D.R.F.)
We hope to have the opportunity to help keep your pet safe.

We are Simply the Best...No Getting Around it™
Service Area
We provide services to customers in the Washington's Northwest area, including the towns and cities of Aberdeen, Centralia, Chelan, Coulee Dam, Ellensburg, Gig Harbor, Kennewick, Lake Tapps, Moses Lake, Okanogan, Olympia, Sunnyside, Tacoma, Wenatchee, and Yakima, Washington and the surrounding area.
Get a Free In-Yard Estimate!
Get a free estimate right now over the phone by calling 253-926-8292. We will help assess your needs and customize a solution that suits both you and your pet. Call today or schedule an appointment to get things started!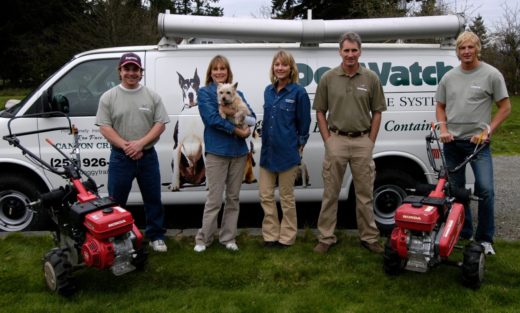 Why Choose DogWatch Northwest?
1. Our number one concern is the safety and well-being of your pet. We provide the support you need to ensure successful training and happy containment.
2. We provide a proven PetFriendly™ training program. We train your dog (or cat) to recognize the boundary flags and the audible warning signal (or vibration) before introducing the correction.
3. We are experienced professionals committed to providing excellent customer service and support. We strive to service every customer promptly and courteously.
We want to hear about your experience! Write us a review on Google+
Simply the best. No getting around it.™
Another reason to choose DogWatch Northwest is that we are an authorized DogWatch dealership. The DogWatch Hidden Fence is the most technologically advanced and the easiest to use, and it is backed up by a no-hassle Lifetime Warranty from a company with more than 25 years of keeping pets happy and safe.

What makes us Simply The Best?
---
Customer Testimonial
Dogwatch is the only thing that keeps our dog on our property! We live on approximately an acre of land and it is logistically impossible to fence in. Even if we did have fences, our dog would surely jump them. She is quite smart and occasionally "tests" her boundaries but the Dogwatch fence keeps her safe and gives us peace of mind.
Alice A.